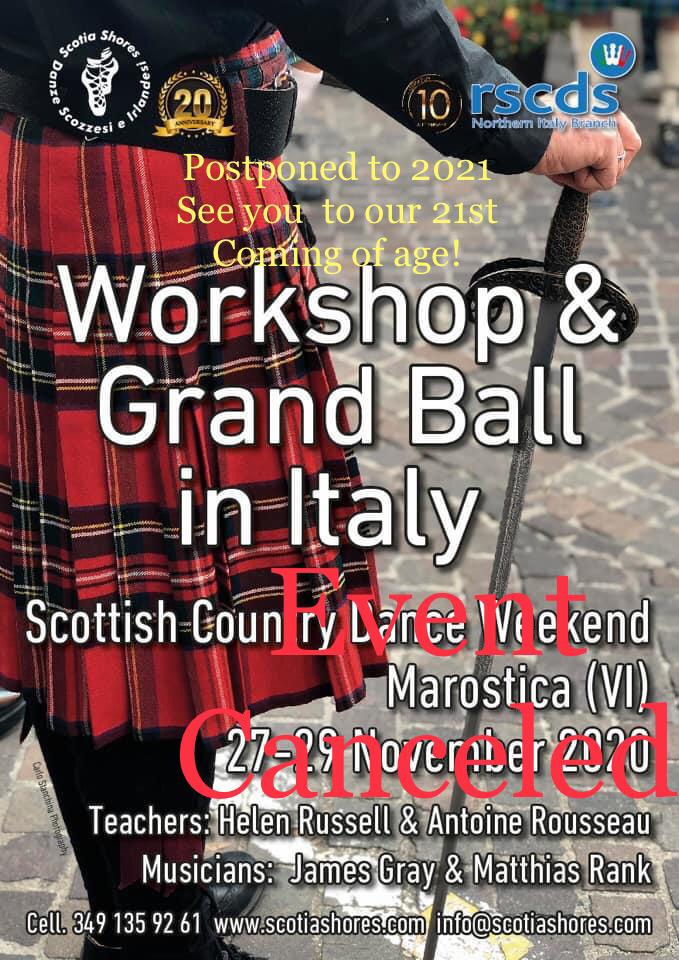 (IT)
Per festeggiare i 20 anni di Scotia Shores, torna l'evento tanto atteso!
Lo SCD WEEKEND con i migliori insegnanti RSCDS
Helen Russel & Antoine Rousseau
Classi di livello Intermedio, Avanzato, Molto Avanzato (Timetable disponibile a breve)
Musica la vivo con…..
James Gray & Matthias Rank
Degustazione di whisky con Oro di Scozia
E… Festeggeremo anche i 10 anni della Northern Italy Branch di cui Scotia Shores è co-fondatore
Tante sorprese per ballare nella migliore tradizione scozzese con l'appeal italiano che ci appartiene
— EVENTO CANCELLATO —
A causa della attuale situazione, abbiamo deciso di rimandare il nostro Scottish Country Dance weekend al 2021.
Vogliamo che tutti i danzatori possano viaggiare e danzare in sicurezza e senza restrizioni.
Crediamo fermamente che sia meglio aspettare ancora un po' a rimettersi in set, e che allora la gioia di danzare sarà alle stelle!
Ci incontreremo ancora… nel weekend del 26-28 Novembre 2021. 21esimo compleanno… saremo maggiorenni! Preparatevi!
---
(EN)
To celebrate Scotia Shores 20th Anniversary, the eagerly awaited event is coming back!
The SCD WEEKEND with the best RSCDS teachers
Helen Russel & Antoine Rousseau
Intermediate, Advanced and Very Advanced Classes (Timetable available soon)
Live music with…
James Gray & Matthias Rank
Whisky tasting with Oro di Scozia
And… We will also celebrate the 10th Anniversary of the RSCDS Northern Italy Branch, co-founded by Scotia Shores.
A lot of surprises, to dance in the best Scottish tradition with our own Italian appeal!
— EVENT CANCELLED —
Due to the current situation, we decided to postpone our SCD Weekend to 2021.
Dancers deserve to travel and dance all around the world safely and without restrictions.
We strongly believe that waiting a little bit to join the set will be better and the joy of dance will be at the edge!
We will meet again… on 26-28 November 2021. 21st… coming of age! Get ready!
info@scotiashores.com